Viazi Vya Nazi With Mahamri
Ingredients:
1 inch ginger, crushed
½ kg potatoes, halved
6 stems dania, chopped
1 tbsp cumin seeds
1 tbsp vegetable oil
1 tsp turmeric
1 tbsp tomato puree
½ litre coconut milk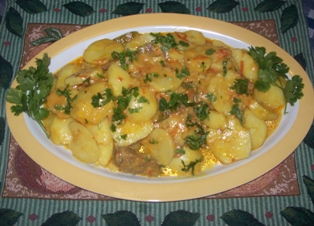 Method:
Saute the potatoes until they have browned then set them aside. In oil add in the ginger, dania, turmeric and cumin seeds, and let cook until they are soft and the flavours diffused. Add the potatoes to this mix and simmer them until they are almost cooked through. Pour the puree on top and stir gently and leave to cook for 2 minutes. Now stir in the coconut milk and let it cook until it thickens, about 5 minutes.
Serves 4.
Mahamri
Ingredients:
1kg homebaking flour
½ cup sugar
1 tbsp cardamon powder
2 tsp baking powder
25ml vegetable oil
250ml maziwa lala
little water if necessary
vegetable oil for deep frying
Method:
Place the flour, sugar and the baking powder into a bowl, and with your fingers mix it up. Make a well in the middle and pour in the oil and the maziwa lala. Slowly mix the liquid into the flour mixture until a dough has been formed. The dough should be soft and if not, add a little water into it. Remove the dough from the bowl and place on a floured surface and knead it until it is soft and pliable, about 7 minutes. Let stand for 10 minutes. Divide the dough into balls and roll each ball out to 7 inches diameter and ¼ inch thick. Cut the circle out into quarters and deep fry them until golden brown on each side. Drain on paper towels.
Makes 30.